Best Textile Motorcycle Jacket
First priority, in the event of an accident, a good motorcycle jacket should be abrasion resistant and have body armor to keep your flesh and bones well protected. Then, the ideal motorcycle jacket would accomplish several other things. It would keep you warm when the weather is cold, dry when it is raining and cool when it hot. Finally, it should be comfortable enough that you will actually wear it and keep it on. Leather jackets, though stylish, are not particularly good at doing these things and are discussed at Best Leather Jacket. Our discussion here is limited to textile jackets such as Nylon, Cordura and Kevlar.
The goals we have set out for our perfect jacket are difficult to achieve with a single garment. The best compromise is to divide up some of the work for other garments. A rider may use layers of clothing to keep warm. This allows the rider to have a single lightweight jacket to use year round and adjust his clothing as the day warms up. Add rain gear over your jacket to keep you and your jacket dry. Rain gear can also serve as a wind suit in very cold weather. Rain gear on top, protective jacket in the middle, warm clothing underneath and a rider is prepared for almost any kind of weather. Now that we have that figured out, which jacket is best.
Nylon and Cordura jackets offer some abrasion resistance and usually have body armor but they can be hot to wear. I've seen a brand new jacket abrade and tear apart in a minor low-side accident. Kevlar is more expensive, but so are hospitals. Here is my experience.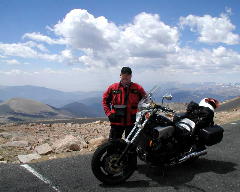 Highest paved point in North America
14,134 feet, Mount Evans, Colorado
My jacket is the Motoport touring style Ultra II Kevlar Jacket. The rugged Kevlar material stretches and was very comfortable in all kinds of weather. Kevlar and the body armor saved my old bones on several occasions. Generous pockets provided plenty of storage for all sorts of stuff commuting and on trips. After five hard years, my poor old jacket is faded and stained from being worn almost daily but undamaged even after several bad get-offs. The Ultra Kevlar II Pants completed my outfit and are not faded much because they were worn mostly for touring or infrequently in cold weather locally. There is a lot of information about riding suits at Motorport.com.
Kevlar is versatile and great for Houston's hot weather. It breathes but the best thing is that you can throw it in the washing machine, one piece at a time, and let it drip dry overnight. In hot weather, I wore the Kevlar riding trousers over underwear or shorts. With the shorts, once I arrived at the destination, I could pull off the trousers and really get comfortable. In very hot weather, you can also pour water down the sleeves of the jacket for some evaporative cooling. In cold weather, I wore the Kevlar trousers over jeans for extra warmth.
Kevlar provides some protection from light rain and can be water-proofed, but most people put rain gear over the Kevlar suit for wet weather. Rain gear also proved useful as a wind suit for extremely cold weather -- the Kevlar is so porous it affords little wind protection. A flannel shirt and T-shirt underneath the jacket handled most moderately cool weather conditions. A windbreaker under the jacket took care of colder weather. Above is a picture of me in my riding gear on Mount Evans at over 14,000 feet. Read California or Bust to see how I fared in that suit from freezing rain in the mountains of Yellowstone Park to summer heat in the Mojave Desert.