Hell-Bent for Leather
Getting out of Texas is the hardest part of any trip. So on a Monday morning with visions of the Pacific in my head, I took the HOV lane into the city as usual, but instead of taking the exit to go to work I kept going and turned north on I-45, bidding good bye to "Sparkling Downtown Houston".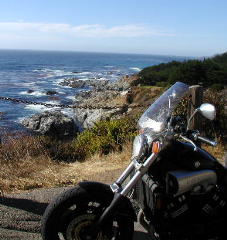 Pacific coast south of Monterey, California
My objective was to get as far as possible the first two days. A broad front of unsettled weather hovered off my left shoulder as I bore toward Dallas, I-35 to Oklahoma City and Kansas City finally stopping after 700 miles in McPherson, Kansas south of Salina.
The following day, I proceeded to Salina where the Interstate ended and continued north on US 81, passing 40 miles east of the geographic center of the lower 48 states, a point four miles west of Lebanon, Kansas. Stopping at an information center on the Nebraska border I donned rain gear after a tip from a southbound motorist who warned of severe weather ahead. They were right. Heavy rain and violent crosswinds forced me to take sanctuary in a small town Subway sandwich shop until it blew over.
Turning west on I-80, I stopped to pull my rain gear off at a rest area and met a 1986 Yamaha Virago rider on his way from Wisconsin to Denver on his first ride to the Rocky Mountains to meet his brother riding from California. Then I turned north on US 281.
Curiosity spurred me to ride part of that road because it goes from McAllen, Texas on the Mexican border due north all the way to Dunseith, North Dakota and the Canadian border. Let me just say that in northern Nebraska, US 281 would be what we in Texas would refer to as a bad Farm to Market road - a narrow, uneven, patched asphalt ribbon tracing a straight line over the gently undulating Nebraska farmland.
US 281 crossed into South Dakota without ceremony and there I finally turned west on US 16. A local Harley rider in an SUV at a gas station suggested a good route, which indeed proved to be spectacular. My trip had finally begun as I pulled into Kadoka, South Dakota for a cold beer and supper, having completed a 600-mile day. Now I could take it easy, that is until I fell over...
Beginning | Previous | Next | Ride Index