Yamaha V-Max VMX12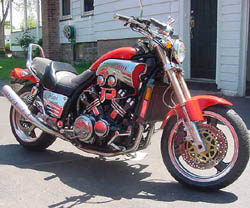 4-2-1 Kerker on Torch Red 1986 V-Max.
Built by Tom Colby, Rochester, New York.
V-Max Legend Lives On
The Motorcycle Cruiser magazine December 2004 issue did a Super Cruiser shootout between the Yamaha V-Max, Harley-Davidson V-Rod, Triumph Rocket III, Honda Rune, and Kawasaki Vulcan 2000. Guess who came out on top?
King of the Quarter Mile
The incredible V-Max was solidly on top of the quarter mile times with a smoking 10.87. The nearest contender was the V-Rod with a distant 11.32 and the new beheamoth Rocket III grunted its way to an 11.45. Meanwhile, in the 12 second bracket the Rune edged out the Vulcan with a 12.42 to 12.43 time.
Pull up to a V-Rod at a stoplight
and spit on his foot.
Well, maybe that is not a good idea, but you will not find more fun for the money. The point is that a person could spend $72,000 to buy the other four new motorcycles and still be soundly stomped by a used V-Max.
V-Max Exhaust Systems
It is difficult to improve on the V-Max Yamaha factory exhaust system, but V-Max riders are notorious for seeking out every additional bit of horsepower possible. V-Maxers like to let that big V-4 breathe and enhance that NASCAR exhaust note. Here is a popular one.
The Kerker-engineered 4 into 2 into 1 exhaust system replaces the entire exhaust and muffler system for Yamaha V-Maxes built from 1985 through 1994. Or an easy and affordable way to update the megaphones and make a little noise is with Kerker slip-ons which keep the factory pipes and collector assembly.
V-Max Mirrors,
or why I named my V-Max Monica
When you tip over, mirrors usually take a beating and often have to be replaced. I should know. My 1998 V-Max has gone down more often than Monica Lewinski. Here is an installation tip.
Look at the nut at the base of the stem on your right hand mirror. Notice the little groove around it. Instead of a groove all around, it may have a notch on each point. Whenever you see that on a Yamaha motorcycle, it means that the nut has left-hand threads. In other words instead of lefty-loosey, righty-tighty, turn it to the right, clockwise, to loosen it. Don't ask me how I know this, just trust me on this. And that boys and girls is the only reason why there have to be different mirrors for the right and left on a Yamaha.