Willie & Max Saddlebags
My first saddlebags were from Willie & Max. They measured 14x11x5 and included a tie kit. To get them on my V-Max, I had a friend at a metal fabrication shop make some custom brackets for me to set back my turn signals four inches. This allowed the bags to hang down in a more attractive manner and also provided legroom for a pillion sitter.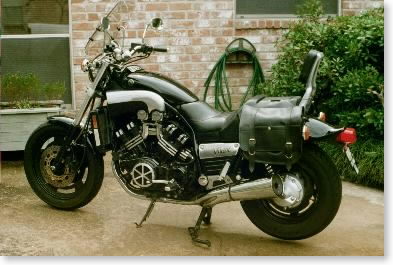 Made of black synthetic leather with dual, roller-pin buckle closures, external snap pockets and internal security flap, these saddlebags did a good job of keeping my stuff clean and dry. The easy on and off bungee-type tie kit and tie strings provided secure mounting.
It is not possible to lock them shut or lock them to the motorcycle. In risky neighborhoods, you might want to remove the bags and take them into your motel with you or don't leave anything in them that you are not willing to lose.
These saddlebags served me well for three years of daily commuting and packed everything I needed for Bike Week 2001. You will never find more luggage for less money and they look good, too. Stow a rain suit and stuff for commuting and weekend rides or pack up all your gear for that big trip you've been planning.
Genuine leather saddlebags are handsome indeed but command high prices and demand more maintenance in terms of leather care.