Motorcycle Tours and Touring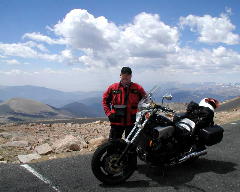 Author at summit of Mount Evans
When it comes to motorcycle touring, I'm reminded of Woody Allen who once said that his goal in life was to climb a low mountain. I've done my share of long-distance riding, but lack the courage of some of my motorcycle riding acquaintances. However, a guided tour may make it possible for you to attempt rides you might not want to try on your own. Here are some examples.
Let's say you want to ride to The End of the Earth, Tierra Del Fuego, at the tip of South America. You do not know the language and local customs, nor safe places to stay nor the food and drinks that are safe to consume. A guided tour will help overcome these obstacles. On the other hand, you may want to ride the highest motorable pass in the world in the Himalayas at over 18,000 feet. An experienced guide might prove helpful.
If you have very little time, only a week or two, but plenty of money, you can indulge yourself by flying to remote corners of the world and take a guided tour. From the most luxurious accommodations to the most Spartan, there is a tour out there for you. Some have arrangements for non-riders to tag along.
Tours also provide the opportunity to ride motorcycles you might otherwise never own. Scratch your itch for anything from a pricey adventure-touring BMW to a Ural sidecar and everything in-between. Finally, there will be the new motorcyclist friends you will have met from all around the world. Here is a selection of tours arranged geographically.
Edelweiss is the leader with guided motorcycle tours all over the globe ranging from rugged adventure touring to posh accommodations.
Tour the Mediterranean Coast, Provence, Camargue, Northern Italy, Corsica, Napoleon Road and Alpine passes on your choice of BMW F650GS, K1200LT, R1200GS or R1200RT.
Flog a new Ural sidecar through the Little Alps. Based in the sunny south of France, conventional motorcycles also available.
Tour from the Black Sea to snow-capped mountains. Custom and self-guided tours also available.
Ride a Royal Enfield Bullet into the Himalayas, across the highest motorable pass in the world at 18,634 feet, Khardung La or visit warm beaches, splendid palaces, Buddhist monasteries and the Taj Mahal.
Guided Harley-Davidson tours originating in Sydney.
"stunning scenery, a warm climate and relaxed surroundings... Godzone... Lord of the Rings country"
Guided and self-guided motorcycle tours. "From our Auckland, Christchurch and Nelson branches we offer motorcycle rentals of over fifty of the latest models from the world's top manufacturers - BMW, Triumph, Harley-Davidson, Honda, Suzuki, Yamaha, Aprilia etc. We even have a Honda Goldwing GL1800 trike. If it's hot and in demand, we add it to our motorcycle tour and rental fleet."
Tours through Mexico, Central and South America, Asia, Europe and the Middle East. This one takes you to the End of the Earth.
"Cross the Arctic Circle! Swim in the Arctic Ocean! Soak in natural Hotsprings! See hundreds of Caribou! Ride the most remote parts of North America!" Less grueling tours are also available.
Ride a Triumph Tiger, Trophy, Speed Master, Sprint ST or RS, Bonneville, Thunderbird, Legend, Speed Triple, Speed 4 or Rocket 3 for " four, seven or ten day luxury motorcycle holidays departing Whistler for the great Rocky Mountain Divide, riding the hidden, breathtaking roadways of British Columbia and Alberta."
You will be pampered with first class treatment from the accommodations and meals right down to the riding gear. Thrash Suzuki V-Stroms on the street and DR-Z400S for the dual-sport leg. A big plus for this outfit is that the non-riders are pampered as well and have their own itinerary. "Bye, Honey! See ya'!"
"Ride the highest paved road in North America to the summit of Mount Evans, a breathtaking 14,264 feet." Other tours for the faint of heart are also available.
"Ride with us as we string together twisting backroads with the expertise that only local riders can possess."
"Ride your motorcycle through the superb mountains of Vermont, New Hampshire, Massachusetts and the Adirondacks or along the spectacular seacoasts of northern Maine, Nova Scotia and Gaspe Peninsula." Rent or ride your own. Non-riders can ride in the support vehicle.