Motorcycle Touring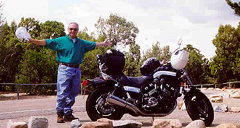 Mad Mac and his new V-Max take a break
in a New Mexico rest area.
One of the great universal fantasies is to climb onto a motorcycle and ride away, roaming the country. Relatively few people ever actually own a motorcycle and even fewer realize that fantasy and set out on an adventure. Here you will find recounted the adventures of one man.
Join yours truly, Mad Mac, on my 1998 Rocky Mountain Odyssey. Ride with me at 12,000 feet on the Trail Ridge Road and learn how I discovered what I was looking for at a bar in a dusty town in New Mexico.
In 2002, I joined a friend for a Ride to Colorado visiting Estes Park and riding to more than 14,000 feet on Mount Evans. Not on the map were some unexpected turns that would test our friendship.
My biggest adventure was in 2003 when I set out to circumnavigate the western half of the United States, California or Bust. My route took me from the Gulf Coast of Texas north to Mount Rushmore, Crazy Horse, Sturgis, YellowStone and Glacier National Park on the Canadian border, west to Mini Stonehenge and down the Oregon Coast to Heceta Head Lighthouse (my favorite), to Northern California's Avenue of the Giants, the California coast to Point Arena Lighthouse, Bodega Bay, and the Pacific Coast Highway down to Big Sur and on down California 1 to Los Angeles to set up a 1,500-mile Iron Butt run in 36 hurs back to Houston. There is also an appendix for tour gear used on the trip. For spiritual solace on your next ride, print out and carry with you my Motorcylist Prayer.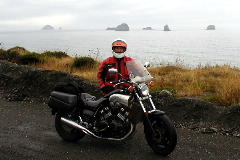 Five years later among the needles and
haystacks along the Oregon coast.
Speaking of gear, notice the equipment and accessories added over the years between the 1998 trip and the 2003 trip. Kevlar riding suit, a newer helmet, hard saddlebags and a windshield increased safety and comfort. But here is what I want to say to any aspiring touring riders.
Do it. Don't wait until you get a touring motorcycle. Do it now with whatever motorcycle you have available. Don't wait until you have all the riding gear and luggage. Go now. Don't wait any longer. You do not need all that stuff. Just strap any bags you have on the back seat and take off.
No more excuses. Now go on. You can do it.