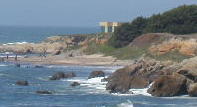 Modern house perched on point.
Pacific Coast Highway
When I reached the Golden Gate Bridge, I could easily see Alcatraz on my left. A small toll was charged for crossing the famous bridge into San Francisco, but a far larger one was exacted in terms of stop-and-go traffic in the city, as you will read later on.
California has prohibited development between California 1 and the coast for quite some time. Anyone who built a place before the ban is extraordinarily fortunate. To see where this modern house is located, click on the picture.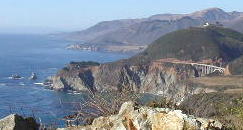 Bixby Creek Bridge
The Bixby Creek Bridge, the most photographed bridge in the world, one you have seen in many car commercials on television, is partially visible on the right hand side of this picture. It is the tallest, single-span bridge in existence. I was actually just taking a picture of the coastline and did not realize until much later that the bridge was also in the picture.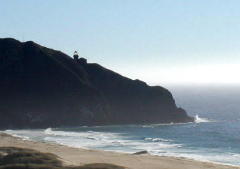 Point Sur Lighthouse
The stubby Point Sur Lighthouse was built on a ledge instead of on top of this point so that the light would be under the fog cover.
Click on the picture to see how far out from the highway it really is. It looks like it would be separated from the mainland at high tide, like Mont St-Michel on the coast of France.
South of the Monterey Peninsula about 25 miles is Big Sur, a region of Redwoods, mountains and coast popular with beatniks, artisans and hippies. I managed to finagle one of the only remaining cabins at the Big Sur Campground, and that is when I looked down at the V-Max and saw a bad problem...
Beginning | Previous | Next | Ride Index