Big Sur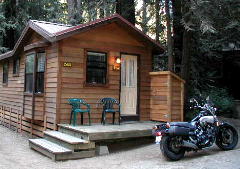 My little cabin in Big Sur
It was here that I noticed an ugly smear of oil down the right hand side of the V-Max, starting from the clutch cover. Evidently, tipping over two times had made a fine crack in the case and once the engine got good and warm in the San Francisco traffic, it began leaking out. The oil level sight glass showed it to be near the add-oil mark so I added half a quart and began checking it at every gas stop. The next day I would add the other half. The rest of the trip, I continued checking the oil level at every gas stop, but it never got below the full mark again.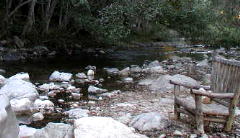 River seating below
the Big Sur River Inn
About a year ago, I low-sided the bike and broke the decorative clutch cover, but it never leaked oil. When I replaced the cover, I noticed a hairline crack in the clutch case, but it was not leaking at that time so I put it back on. This time it looks like I will have to replace the whole clutch case. I make a mental note to call my favorite parts guy, Gary McCoy at University Motors in Fargo, to get the clutch case and all the other parts I will need for 60,000 mile service upon my return.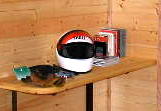 Cabin was very comfortable.
Walked down the road to a store that sold beer and burritos. Sat in a chair in the river bottom behind Big Sur River Inn, an historic resort I could not afford to stay in, and kicked back. Burritos in California are big, real big. I could only eat about a third of it. The store manager put the rest back in his cooler for me to pick up in the morning. Click on the picture of the chair to see my view of the Big Sur River. It doesn't get any better than this.
Something about the giant redwoods inspired silence among my fellow campers. It was eerily quiet. Knotty pine paneling made my cabin warm and cozy. I left a window open and slept fitfully, both anticipating and dreading the ride the next day. For you see, it would be my last day on California 1...
Beginning | Previous | Next | Ride Index