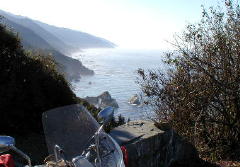 Whale watching vista
had no whales this morning.
Last day on the coast
The next morning, I picked up my burrito and a diet cola and headed south but only made it 12 miles before I got hungry and decided to have breakfast at this great overlook. This would be my last day on the coast and as fate would have it these were my final photographs from the trip, though the trip itself was far from over.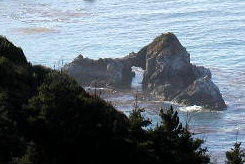 Farewell to the
Pacific Coast Highway.
This particular vista is also a whale watching point. While warming my burrito on my exhaust pipe, I took a few shots and scanned the Pacific for signs of whales. Winter and spring are when they migrate past this area, and none were visible this beautiful morning.
If the Big Biker ever told me, "Son, you have but one more ride to make before you put your kickstand down for all eternity. What road will it be?" I would choose California 1.
The rest of this day was spent getting in position for a dash from Los Angeles to Houston, 1,500 miles in 36 hours, to earn an Iron Butt Bun Burner...
Beginning | Previous | Next | Ride Index