Iron Butt or Bust
Fog was so thick around San Simeon, I could not see the ridge upon which Hurst built his castle, nor the ocean. Sea lions warmed themselves in the little bit of sun available on one beach I could glimpse, but none of this concerned me. My goal this day was to get to the east side of Los Angeles in position to make an Iron Butt, Bun Burner 1,500-mile dash in 36 hours to my home in Houston.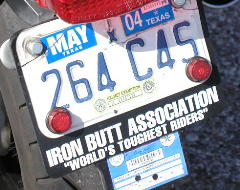 Iron Butt Association
World's Toughest Riders
License Plate Frame
Before I left Houston, I had planned for this and printed out the witness forms, instructions and log. Saturday morning, I needed a witness or two to sign a form that I was in Los Angeles, so I headed for the continental breakfast provided by the motel. There was a rare breed dog show in town that weekend and two ladies were discussing the event. Dressed in my finest VMOA T-shirt, black jeans and Vmax belt buckle, I told them I needed a favor, one to which they readily agreed, and I was on my way, 7:30 a.m. Pacific Daylight Saving Time. I would have to be in Houston no later than 9:30 p.m. CDST.
Riding across the desert on the last weekend of summer gave me some concern, but it was no problem at all. Whenever I stopped for gas I soaked my trusty bandanna in water, wrung it out and had a nice little evaporative cooler around my neck. Phoenix and Tucson, Arizona were very hot and I also poured water down the sleeves of my Kevlar riding jacket.
It was night when I rode through Las Cruces, New Mexico which was spread out on the desert floor like so many stars fallen to earth. By the time I finally got to bed in El Paso, Texas it was midnight, Mountain Daylight Saving Time. Did you know that Texas is in two time zones?
Sunday, I awoke at 5:00 a.m. MDST, still dark, and took off arriving in Houston in the rain at 7:30 p.m. CDST with two hours to spare. The Bun Burner provided a great way to finish an outstanding two-week ride, one which I will not soon forget.
For information about the motorcycle, saddlebags, equipment, accessories and riding apparel used on this trip, visit Tour Gear.
This article is dedicated to the memory of Bill Hines.
Beginning | Previous | Next | Ride Index