Yamaha Motorcycles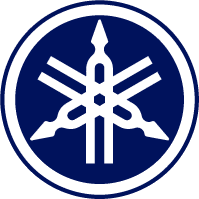 Yamaha was originally and still is a manufacturer of musical instruments. The company logo is three crossed tuning forks. Initially making some parts for other motorcycle companies, it was not long before they began building their own.
In 1954 Yamaha introduced the YA1, a single-cylinder 125cc two-stroke and in 1957 the YD1, a two-cylinder 250cc two-stroke. In 1959 Yamaha brought out the tubular framed YDS1 250cc 2-cycle twin with a five-speed gearbox.
In 1960 Yamaha created two racing divisions, one for their racing customers and one for their own factory riders. Yamaha's TD series struggled until a winning season in 1967. Water-cooled TR and TZ models continued Yamaha's success in the 250cc and 350cc classes.
Yamaha won five TTs and earned seven second-place finishes and five world championships and seven second-place championships, leading the industry in development of two-stroke engines from 50cc to 350cc into the 1970s. Unfortunately, U.S. emission laws spelled the end of the two-stroke. Yamaha turned their attention to four-stroke engines.
In 1972 Yamaha produced their 650cc vertical twin and followed that with one-cylinder, two-cylinder, three-cylinder and four-cylinder designs, some having shaft-drive. In 1985, Yamaha unleashed the 1200cc V-Max with V-Boost and set an absolute record for production motorcycles at the drag strip.
In recent years, Yamaha has created a new division, Star Motorcycles, with V-twin cruisers from 650cc to 1700cc. The V-Max is still in production and is also part of the Star division.
The author is proud to have owned a 1969 Yamaha DT175 Enduro, an XT500 Thumper, a 1979 RD400 Daytona Special and a 1998 V-Max logging 67,000 miles in six years and many adventures.