Ramp Master 90" Arched Motorcycle Ramps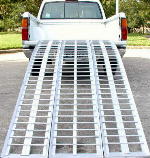 Story and Photos by Mad Mac 10/25/04
These ramps are wide enough to land a Jumbo Jet.
Be sure to click on the small pictures on this page for larger pictures and a different perspective.
The two side rails make it easier to ride up into your truck and the arch helps avoid hanging high center. The first couple of times I used them, I moved the right side rail to the left side so that I had a 24" wide platform on which to stand while unloading. Later, after watching my friends unload their V-Maxes at a rally, I learned how to roll out backwards while sitting on the bike, a technique not endorsed by Ramp Master.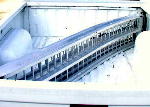 With my Nissan pickup 6-foot bed, these 7-1/2 foot ramps fit diagonally with the tailgate closed.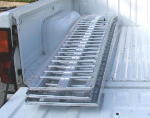 Loaded with my V-Max, I could not close the tailgate anyway, and the ramps stowed next to the bike without extending beyond the edge of the open tailgate.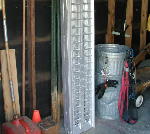 Because the three rails are separate, they are easy to handle, store standing on end or stack.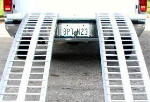 You can position the rails to load other equipment such as 3 or 4 wheel ATV's or riding lawnmowers.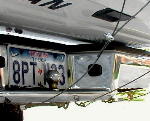 Safety cables keep them from slipping off the lip of a tailgate.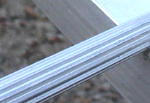 Sturdy fluted treads welded to the aluminum rails form a secure platform and provide good traction for vehicles and people.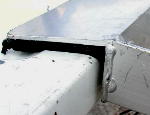 A pad on the generous flange protects the tailgate.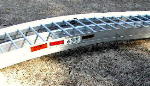 The gentle, progressive arch of the ramps allows all but the lowest motorcycles to ride up without hanging high center.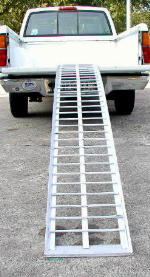 The center rail is rated for 1,500 pounds and each of the two side rails is rated for 600 pounds, a total of 2,700 pounds. The center rail alone can support a heavy man on a large motorcycle, but who would want to try to do that. The side rails are very reassuring.
These ramps are great for trailers, small trucks or standard trucks, but if your truck is very tall, such as some 4X4s, longer, folding ramps may be a better, safer choice, such as Ramp Master's 122" ramps.
You can find less expensive ramps, but I do believe there are none better.