Motorcycle Museums and Collections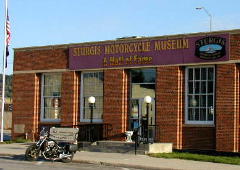 Sturgis Motorcycle Museum & Hall of Fame
prior to opening Thursday, 9/11/2003.
Flag is at half staff for 9/11/2001.
Motorcyclists have few large museums or collections dedicated to motorcyles and motorcycling. Some are but segments of larger transportation museums. Others are individual collections co-located at motorcycle dealerships.
The Barber Vintage Sports Museum and the AMA Motorcycle Hall of Fame are exceptions. Here are a selection of museums and collections of note arranged in alphabetical order by state.
" Five floors, 80,000 sq ft, almost 900 motorcycles, more than 140 manufacturers, the largest and most amazing collection in America! Dedicated to the preservation, interpretation, exhibition and history of motorcycles, vintage vehicles and motorsports."
Virgil Elings displays his collection of 20 years from 1910 to present. Vintage racing motorcycles are favored.
Harley-Davidson dealer with extensive collection, diner.
No admission charge, but by appointment only. Groups welcomed.
Independent custom builder and used Harley dealer with large collection of antique motorcycles and memorabilia.
Dealer with comprehensive collection spanning many years and makes.
"An extensive collection of vintage motorcycles, thousands of photographs, posters, postcards and pieces of motorcycle memorabilia... "
Museum dedicated to BMW motorcycles. Motorcycle campground. They have a rally, too, the South Sturgis Rally in August.
"... one of the largest collections of privately-owned Harley-Davidsons in the country... displays vintage bikes, advertising and memorabilia. Unique to the Museum is a complete dealership, circa 1949."
All-American Transportation Museum - "250 rare antique American Motorcycles and Automobiles. Equally as astounding is the memorabilia collection that unites the art of the motorcycle with the generation of Americans that enjoyed a lifestyle peculiar to the American Mainstream."
American Motorcyclist Association museum. Three exhibition halls rotate exhibits every two years to "tell the stories and history of motorcycling." Two hundred motorcyclists are honored in the Hall of Fame.
More than 30 motorcycles dating from 1896 displayed in two showrooms.
"... to preserve the great history of motorcycling and to honor the men and women who have made a positive and significant impact on our sport and lifestyle... comprehensive and educational exhibits and showcasing rare and unusual motorcycles significant to our history and our sport."
From 1910 to modern. Ace Cafe is inside the museum. Might make a good lunch stop for a group ride in the famous Texas Hill Country.
Tucked into some great riding country is a quiet little Harley dealer with a surprisingly good collection attractively displayed. Worth stopping.
In addition to their online store, Moto-Mini has an extensive collection of motorcyle toys and models that are not for sale but are on display on their web site. Handy for research.