California or Bust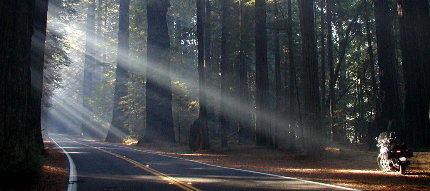 Story and Photos by Mad Mac 9/30/03
"I've never been to this part of Texas before."
The young Park Ranger's shoulders shook and tears of laughter streamed down her cheeks at the absurdity of my remark. Merely 19 miles from the Canadian border at the gateway to Glacier National Park, I was at the northernmost point of my two-week adventure when I uttered the phrase that I used everywhere along my route. Responses varied from incredulity to mirth, but this one was the most charming.
Ever since I lived in Monterey, California as a teenager more than 40 years ago, I wanted to ride a motorcycle on the Pacific Coast Highway. Living in Houston, Texas now, my problem was how to get there and get back. In the past, I had flown to the west coast and vacationed by rental car, but there were other places I had yet to see, so I set out to take them all in. They were on the way. But first, I had to escape from Texas...