Bodega Bay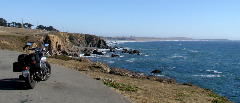 Looking south toward Bodega Bay
from in front of the schoolhouse.

In the Hitchcock movie, The Birds, children run down the hill from the schoolhouse to the town of Bodega Bay. The original schoolhouse still exists, but it is actually about five miles north of the town. Ah, the magic of cinema.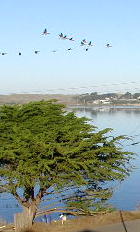 Bodega Bay from the balcony of my luxury hotel. Wait, what's with all those birds..

In the movie, Tippi borrows a motorboat and goes from the post office across the bay to the ranch and back to leave a surprise for her paramour, Rod Taylor. The post office, to the right of my balcony, has been replaced with a modern one but the original ranch house still exists on the other side of the bay, albeit surrounded now by other structures.
Tippi Hedren was one of my favorite actresses, and evidently one of Alfred's too. He was partial to what one critic called "frigid ice blondes." Ingrid Bergman, Kim Novak, Janet Leigh, Eva Marie Saint and Grace Kelly appeared in his movies but he openly pursued Tippi Hedren, embarrassing her, the studio and his wife.
Tippi was in Bodega Bay a couple of months earlier to promote her Roar Foundation, the Shambala Preserve for big cats.
That night, I had a most excellent meal of sauteed squid in a tasty sauce washed down with a local Hefa beer. The restaurant was out on a pier overlooking the bay and the white linen, silver and crystal contrasted sharply with my black biker outfit. The other Armani and Gucci clad diners were not particularly affable, but I enjoyed the meal enormously, the culinary highpoint of my trip.
Bodega Bay was wonderful and I could have lingered, but down through San Francisco and on south of Monterey more great riding awaited me on the Pacific Coast Highway.
Beginning | Previous | Next | Ride Index