Point Arena Lighthouse
Genny's Giant Hamburgers
California has lighthouses, too. This one at Point Arena even has lighthouse keeper houses you can rent for about $200 a night. The building to the left of the lighthouse houses the equipment for the foghorn.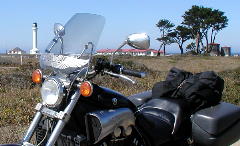 Point Arena Lighthouse
At this point, I was shooting a picture of the waves crashing against the rocks when a tourist in a car offered to take my picture. He was not a motorcyclist, but after talking for a few minutes it was clear that he understood the dream.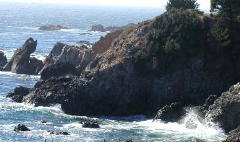 Waves crashing against the rocks.
At this vista, there were two motorcyclists from Oregon. I suggested that this was probably no big deal to them, but they corrected me saying that Oregon did not offer the mountains right along the coast the way that California did.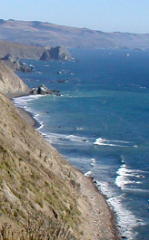 Another day at the office.
In Fort Bragg, not the military installation, but the California coastal town, I gassed up at a small grocery. A little boy with his mother took a great interest in my V-Max. I fished around in my saddlebag as I asked him if he would like a motorcycle like this. When he nodded his head, I held out a new in the box Maisto V-Max model and gave it to him. His mom seemed as surprised and happy as he did.
It was lunchtime and I asked for suggestions. She directed me to Genny's Giant Hamburgers in the adjoining hamlet of Noyo. Good choice. Sat outside at a picnic table enjoying the perfect weather, watching and listening to the ocean. Tasty hamburger, too. I could have stretched out and taken a nap in that sleepy little seaside village, but the coast highway beckoned with its siren call to continue to Bodega Bay.
Beginning | Previous | Next | Ride Index