Motorcyclist Prayer and Bible Verse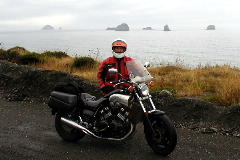 Modern motorcyclist with helmet, gloves, boots, body armor and windshield. Think of the handlebar grip as the hilt of a sword when you read Ephesians 6:11 below.
In the Spring of 2002 I had the good fortune to visit the Thorncrown Chapel when I was in Eureka Springs, Arkansas for a motorcycle club rally. The orientation was quite moving and though not a religious person or bible scholar, I was inspired to do some research.
The common opinion of bible scholars agrees with that of St. Vincent Ferrer, that Jesus crown of thorns was "intertwined with several branches of thorns, and fashioned like a helmet or hat, so that it fitted upon the whole of the head, down to the middle of the forehead."
The helmet, as St Anselm teaches us, is the hope of eternal salvation. Jesus wore a crown of thorns so that we could wear a helmet of salvation.
But the clincher was Ephesians 6:11-18
"Finally, my brethren, be strong in the Lord, and in the power of his might. Put on the whole armour of God, that ye may be able to stand against the wiles of the devil. For we wrestle not against flesh and blood, but against principalities, against powers, against the rulers of the darkness of this world, against spiritual wickedness in high places. Wherefore take unto you the whole armour of God, that ye may be able to withstand in the evil day, and having done all, to stand. Stand therefore, having your loins girt about with truth, and having on the breastplate of righteousness; And your feet shod with the preparation of the gospel of peace; Above all, taking the shield of faith, wherewith ye shall be able to quench all the fiery darts of the wicked. And take the helmet of salvation, and the sword of the Spirit, which is the word of God."
This, I recast into a motorcyclist prayer or blessing.
Motorcyclist Prayer
Heavenly father, please bless this helmet of salvation, this body armor of God and these boots of the gospel. Let this windshield be a shield of faith and these handlebars be the sword of the Spirit. Let us ride in righteousness, strong in the Lord and in the power of God's might. Amen.