V-Max Odyssey: The Long Way Home
August 1998
Dear precision-sized friends on the Short Biker List, large thugs on the V-Max list and other friends and family:
I have just returned from a 3,600-mile personal odyssey on my 1998 Yamaha V-Max. Two weeks ago, at age 50, I set out to fulfill a life-long dream to tour the Rockies by motorcycle, in search of something, I knew not what. Here is how it went.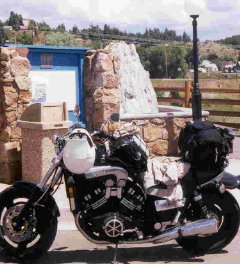 V-Max waits patiently while Mad Mac
enjoys lunch in Pagosa Springs, Colorado.
Avoiding interstates and sticking to secondary roads whenever possible, I traveled more than 500 miles from Houston to Lubbock the first day. The following morning, I left Texas on a ranch road. Someone had stolen the "Welcome to New Mexico" sign and the only other traffic were prairie dogs. I was elated.
Approaching Roswell, got first look at a mountain, El Capitan, cruised past the UFO store and down US 70, my first canyon road filled with curves. A great ride into Ruidoso brought me to an intersection where a sharp looking red V-Max with matching helmet glided across, did a double-take and gave me a big thumbs up.
Who would believe it would be cold and rainy in Canyon Lands in August? My goofy looking blue raingear kept me snug while I admired the scenery. The gray overcast and wet patina gave the desert a distinctly different look. The great arch was a gateway to another world, viewing the storm through it. Maybe there is something to that Roswell story after all.
In Wellington, the weather clears and I pull off the raingear to have a sandwich at a truck stop. In expertly wheels a sidecar rig. The driver's rain gear is worse than mine -- yellow pants and a brown top. Off comes the helmet and out flops a luxurious brunette ponytail. The sidecar unzips itself and a 5/8-ths-scale version of the driver hops out. A mother and daughter touring together, I assume. And I thought I was tough.
During long rides, I would lean back on the black padded video camera bag I had lashed to the rear seat for luggage or lie on my homemade tank bag -- a black canvas briefcase bungee netted to the tank. The clear vinyl package for my raingear converted to a map case, which fit under the net for quick reference. To get on and off, I had to do a variation of the river dance, hopping on my left foot and holding my right leg extended with my right hand clutching the cuff of my blue jeans.
The V-Max has gobs of power in any gear and seemingly any speed, but as the trip progressed and I grew more confident, I began downshifting to pass so that I could get into the V-Boost even when I did not need it. What a blast! At high speeds, I would assume a flat-track-miler position, putting my left elbow on my left knee and cupping my left hand around the tank or reach under the handlebar and grasp the top of the left fork to pull myself down even lower. I could pass anything but a gas station.
Every 50 to 100 miles, I filled up, as much to take a break as to keep the V's tiny tank topped off. It looked like I was getting more than the usual 40 miles to the gallon, so from Salt Lake to Denver, over 600 miles the route I took, I kept careful records. The mighty V got a solid 45 miles per gallon. And that included climbing to "the roof of the Rockies."