Trail Ridge Road,
Rocky Mountain National Park
Between Steamboat Springs and Denver lies the Rocky Mountain Park Trail Ridge Road. Here you can drive more than 12,000 feet high, above the timberline for views that are breathtaking for more reasons than one. There ain't much oxygen up there, but the V was unfazed.

Cruiser Customizing chose the photograph above
for their first cyber-calendar New Years Day and January 2, 2003.
Carving out a 15-mph curve so tight you could read your own rear license plate, I met an elk in the road. After I came to almost a complete stop, she casually rejoined her companion in the edge of the woods. Later descending from the crest, I saw a small herd about 200 yards below resting with a stag. I don't know much about Elk, but his antlers looked like I could have ridden through them.
In Estes Park, I motored past a parked V-Max with highly polished air scoops, very dramatic looking.
My stock V attracted plenty of attention everywhere I went. Travelers and shop owners alike were all friendly. Other bikers were quick to return my wave. Many were local but some were heavily loaded down like me and touring, usually in pairs or groups of four.
One group I met on the Trail Ridge Road included a huge chap from San Antonio on that big dirt/touring bike BMW makes. As he was cranking up to leave, I jokingly asked him if he was going to ride it to Mongolia. He had been silent up to that point, but then killed his engine and rolled back into his parking place next to mine.
He softly related to me that he had ridden to "the end of the earth," the southernmost tip of Chile, twice, and the Al-Can highway to Alaska once and planned to go again. I was in the presence of a man who had ridden the length of North and South America. Made me feel like I was only taking a spin around the block.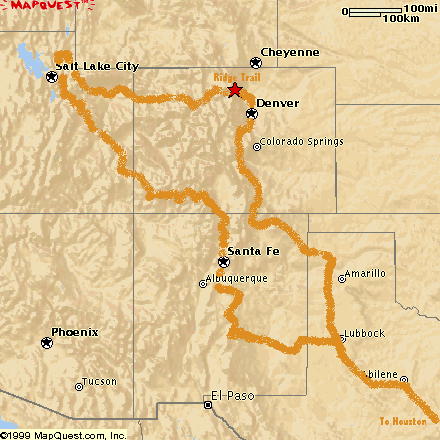 But it was still a long way home.
Beginning | Next | Ride Index