Sturgis, South Dakota
Lone Wolf
Some might wonder why I would bother visiting the small town of Sturgis after the famous Black Hills Motor Classic rally is over. The reason is that I basically dislike crowds and prefer to ride alone.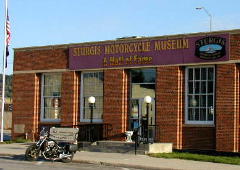 Sturgis Motorcycle Museum Hall of Fame
September 11, 2003
Flag is at half staff for 9/11/2001.
When I first bought my V-Max in 1998, I never imagined riding with anyone but envisioned the lone motorcyclist wandering the country. Accordingly, within a few months, I took my first long solo trip to Utah and Colorado, visiting family along the way, which you can read about at V-Max Odyssey.
Having said that, in 2000, I found myself organizing the Houston Chapter of the V-Max Owners Association and led and rode in many group rides. In 2001 I rode with a friend to Bike Week in Daytona Beach, Florida where I spent a week with a few hundred thousand other motorcyclists. With the same good friend, I rode to Colorado in the spring of 2002. That good friend is now the leader of the Houston Chapter and is the VMOA South Central Regional Director. Don't get me wrong, I enjoyed riding with others, V-Max enthusiasts are a friendly, independent and varied lot, but I yearned to ride alone once more.
The reason I am in Sturgis at all is because my wife's uncle recently passed away and he wanted to go to the Black Hills Rally in Sturgis in his motor home, trailering my V-Max. We didn't make it.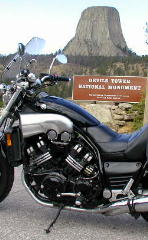 Popularized in the movie,
Close Encounters
of the Third Kind
Devils Tower
National Monument
Wyoming
So here I am about to leave Sturgis, thinking about how fragile life is and missed opportunities, when a white-haired fellow on a highly customized Yamaha Road Star walks up to me and says that he is riding to Spokane. To complicate matters further, this nice looking gentleman bears a striking resemblance to my own late, great-uncle and Spokane, Washington is on my route.
Every fiber in my body rejected the notion of giving up my independence to take on this stranger, who I will refer to as Joe, so I do not announce that I too am going to Spokane. Instead I suggest that we ride to Devils Tower, a couple of hours away.
After pictures and discussion of the movie Close Encounters of the Third Kind, we rode to a terrific, little restaurant, had a great lunch and agreed to ride to Cody, Wyoming and on to Yellowstone the next day. Once in Cody, everything had gone so well I suggested we share a room. Three a.m. in the morning, I awake.
Joe is fully dressed, ready to leave immediately for Spokane. Evidently, he is having an anxiety attack. By the time I got him settled down and we parted at breakfast, I was convinced I had spent the night with a claustrophobic, paranoid, former CIA-assassin. Did I mention that he wore a hunting knife on his belt. I wish Joe well, but resolved not to ride with anyone else, ever. Alone once more, I proceeded toward Yellowstone National Park and different kinds of close encounters...
Beginning | Previous | Next | Ride Index