Once a motorcyclist, always a motorcyclist
As luck would have it, the lady in line in front of me had been working at the Mount Rushmore bookstore for 14 years and was on her lunch break and knew all about the monument and the movie. She explained that the restaurant made famous when Eva Marie Saint shot Cary Grant had been closer to the monument and was torn down when the new, more spacious facilities were completed in 1998. My personal tour guide turned the otherwise boring wait in line into an informative discussion of great interest to me.
The food was good and not unreasonably priced. A steaming bowl of buffalo stew hit the spot. Near the tall windows facing the mountain, I shared one of many long tables with a group of senior citizens on a bus tour of the national parks and enjoyed a most pleasant conversation. As they were leaving, one old fellow hung back, looking longingly at my riding gear stacked in the chair near him. He softly informed me that he had ridden for many years but sold his motorcycle when he was 65 because he feared that he could not bounce back from injuries the way he once did. But then he went on to add that he really missed riding.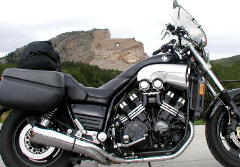 "My lands are where my dead lie buried."
"Never forget your dreams."
The rain ended and the sun came out. Not far away was my next destination, Crazy Horse Memorial. Unlike Mount Rushmore, which is funded by federal and South Dakota taxes, Crazy Horse is entirely a private venture with absolutely no tax money involved.
When complete, it will be the largest monument ever created, larger than the pyramids, taller than the Washington Monument. To give you some sense of scale, all four heads on Mount Rushmore would fit on merely the head of Crazy Horse. Fees, which include a free bus ride from the visitor center to the base of the mountain, were $9 per person up to $20 per vehicle, except motorcycles which was $4 a rider and well worth it. Of course no motorcyclist can travel this part of the country without making a pilgrimage to Sturgis...
Beginning | Previous | Next | Ride Index