Yellowstone National Park
Hail, Buffalo and Bull Elks
It was a beautiful morning riding out of Cody toward Yellowstone, but dark clouds soon filled in and I once again pulled on the rain gear. It was already raining when the Park Ranger at the gate warned me about some construction on one route and the threat of snow and ice that night. I made up my mind to ride completely through the park that day.
It did not snow but I did find myself riding in freezing rain and small hail as I rode through 8,500-foot Sylvan Pass, the highest elevation on my trip. With no foot covers, my boots were soaked and my feet were extremely cold. In all my more than 50,000 miles of riding, I had never been more miserable. The weather was so bad that I did not even attempt to take any photographs.
Motoring up one grade with a wet, black, stone cliff-face on my right, a wet, black road beneath me and a sheer drop-off on my left, I realized there was a large, wet, black buffalo facing me, grazing on the thin strip of grass on the right shoulder. By the time I saw him, I had no choice but to smoothly motor on by, passing about ten feet from him. But it gets better.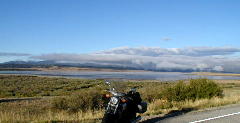 Yellowstone Reservoir
north of West Yellowstone
The rain let up and going around a curve in a mountain meadow, I stopped where a herd of elk was crossing the road. The bull elk stepped onto the road and turned and squared off on me about 30 feet away. Tourists and a Park Ranger on the other side of the herd watched as I sat motionless. The bull elk continued across the road and thrilled everyone with a bugling serenade as I rode off. One of those tourists may have a great picture of me, framed in the antlers of a bull elk.
By one p.m., I was warm and dry in West Yellowstone and used the opportunity to do a load of laundry, walk around the town and have a buffalo burger. When I left the next morning, there was frost on the hoods and roofs of the vehicles in town, but it was a sunny day and the road was clear and I did manage one picture of Yellowstone Reservoir.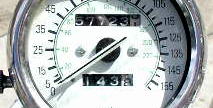 143 miles on one tank
is a feat on a V-Max.
Wolf Creek, Montana
Leaving Helena, Montana I made a mental note to get gas on my way out of town. However, there did not seem to be any gas stations on the way out of town. No problem, I could go another 30 miles. About 15 or 20 miles later, there was a sign that said, Wolf Creek 20. Do the math.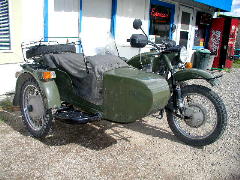 A Ural sidecar
has a driven wheel
This is a new record for me, 143 miles out of 3.5 gallons, 41 m.p.g. Across the road from the little store with two gas pumps was an espresso bar, the only other business in town. The owner had one of the Ural side-hacks with a driven sidecar wheel, which he used in the winter to ride around with his wife in the Montana snow. I asked the owner of the gas station about the winters up there and she said they were not bad, in the twenties. Gassed up, I proceeded northwest on US 287 to Glacier National Park...
Beginning | Previous | Next | Ride Index