US 287, The Longest 3-Digit US Highway
Glacier National Park
The Road to the Sun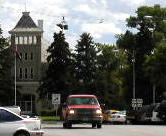 Northernmost point
of US Highway 287
in Choteau, Montana.
"Did you know that if you go down to the corner and turn right on US 287, you can go 1,800 miles, all the way to Port Arthur, Texas on the Gulf of Mexico?" said I to the clerk in the convenience store in Choteau (pronounced show-taw), Montana. Much to my surprise she said, "As a matter of fact I do. I'm from Texas."
It turns out that she was from Temple, near Fort Hood, and that her husband was, uh, shall we say overseas, and she came up first for a visit and now they have moved for the, uh, duration. But the line I liked the best was when I asked her about the winters and she said no worse than Texas because, "It's a dry cold." That's the spirit.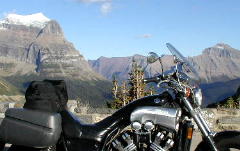 Glacier National Park
looking east from
the Logan Pass visitor center.
Now we come to the beginning of our story where I reduced a petite Park Ranger to tears. It must have been the end of a long, solitary day in her little booth. Timing is everything.
She got even with me however, because she offered me a Golden Age Passport to the National Parks. You have to be 62. I told her that even though she thought I was an old fart, she was still adorable.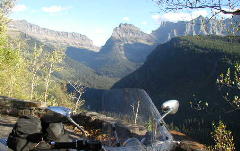 Road to the Sun
In addition to being perhaps our most inaccessible national park, Glacier is arguably the most beautiful. Riding west over 6,800-foot Logan Pass and the Continental Divide on the Road to the Sun revealed an incredible scene. The late afternoon sun streamed across an exceedingly deep, emerald green valley with a river winding through it. My pictures simply do not do it justice.
Spent the night at West Glacier, the last night of the season for the motel, restaurant and bar. A young man from Seattle on a silver Honda ST1300 had the room next to mine. Traveling in opposite directions, we swapped route suggestions over breakfast. I should have followed his recommendation, but instead...
Beginning | Previous | Next | Ride Index