Heceta Head Lighthouse
Sin and the Art
of Motorcycle Maintenance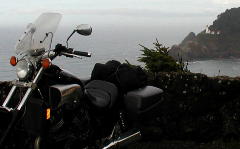 Heceta Head Lighthouse, Oregon
A heavy overcast cloaked the Oregon coast the next morning, the kind of dreary Pacific Northwest weather most people dread.
It was great because it made it easier to admire the Fresnel lens on the Heceta Head Lighthouse.
Most working lighthouses these days use strobe lights which merely flash. The light in a Fresnel lense rotates and projects a focused beam.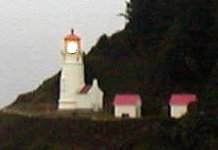 Detail of Fresnel lens, visible for
21 miles. Click for wallpaper.
Some Fresnel lenses are displayed in museums but Heceta Head may be one of the few remaining Fresnel lenses in operation. On a vacation in Oregon many years ago, we climbed the lighthouse and saw it close up.
Stopping at a Motel 6 in Eureka, California for the night, I did what would be my last load of laundry for the trip at a neighborhood Laundromat while I ate leftover breakfast and lunch out of my saddlebag in the parking lot. Hey, it was good! In spite of eating well and all the wrong foods, I lost eight pounds on this trip.
When I got back to the motel, using my mini-Maglite, I checked my battery and discovered as I feared, that the battery fluid was so low as not to be visible through the inspection ports. Tipping over twice must have drained battery fluid out the battery vent hose. I rode to a drugstore and bought a gallon of distilled water and a medicine dropper, pulled the seat off and then could see the plates were not even covered.
While I was working a couple from Denmark walked up, offered to help and started talking motorcycles. Turned out he had a sportbike back home, but knew all about V-Maxes. When I ride alone, all sorts of people will stop, walk over and talk to me. It took a long time in the dark, juggling flashlight, dropper and holding electrical stuff out of the way, but I wanted to get it done. Tomorrow would be a full day of the greatest riding of my life...
Beginning | Previous | Next | Ride Index