The Oregon Coast
The Pacific at Last
Traveling along the north side of the Columbia River to Bingen, then crossing to the Interstate clinging to the south bank, through the Columbia Gorge which is the Mecca of windsurfing, I pressed on through Portland to Astoria and the sea. It was there gassing up when the attendant, a requirement by law in Oregon, asked if we were all from Texas.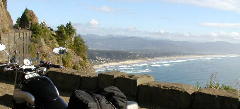 The Pacific at last!
Oregon Coast from US 101.
Three Harley riders had come in to the station but had been ignoring me, a not uncommon experience for rice-burner enthusiasts. They then saw my Texas plate and introduced themselves. They looked to be in their sixties. One couple, retired Navy, had ridden from Fredericksburg to ride the coast all the way to Long Beach, California to visit their son. Another from Houston opted to ship his ride to Reno where he met up with them. We would end up leapfrogging each other down the coast for the next two days.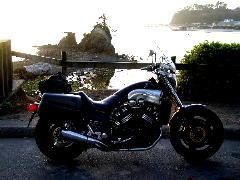 Tenacious cypress clings to needle
near Depoe Bay, Oregon.
That night in Depoe Bay, two BMW riders were staying in the same motel with me. We walked to a local restaurant for supper and bench racing. One was from Los Angeles and the other from Reno. Though both were on BMWs, the rides were quite different. The Englishman from Reno was on a GS1200 with a tiny fly screen and his friend rode in luxury on a touring bike with heated handgrips, fairing and MP3 cruising music. The company and view were enjoyable, but the dinner was expensive and disappointing.
We watched a Coast Guard boat negotiate a narrow passage into the bay as we walked back to the motel across the bridge. I had my camera but like an idiot just let it hang around my neck as they slipped between the treacherous rocks under the bridge.
Back in the motel, I opened the sliding glass window to my balcony facing the ocean for some cool air. I fell asleep to a lullaby of waves lapping on the beach, the rhythmic grunt of the Depoe Bay foghorn and the random clanging of a buoy bell.
Tomorrow, my favorite lighthouse, haystacks and needles and a stop in Eureka for unscheduled maintenance...
Beginning | Previous | Next | Ride Index